INTERRACIAL LOVE- (13 EPISODE DOCUMENTARY ON C31)
Aussie 1.Productions cordially invites you to be part of our exciting new series, 'Interracial Love' that will be aired on C31 community TV, Melbourne/Geelong, Australia and its official online channels.
INTERRACIAL LOVE is a 13 series program, produced by Aussie1.Productions.http://aussie1.productions/
A boutique film and video production company, foreign language film distributor and event organizer.
Aussie 1 Productions is passionate about sharing inspiring stories from diverse cultures such as' Interracial Love' that touches the hearts and minds of audiences around the world.
SYNOPSIS: 'Interracial Love' is a series that showcase love stories as well as the ups and downs of mix marriages. Melbourne, Australia being a multicultural city makes it easy to meet people from all kinds of nationalities and cultural backgrounds – and sometimes, to fall in love.
Ideally, love should have no boundaries. Nevertheless, we are dealing with reality which encounters a variety of issues arise in marriages between people from different backgrounds. This adds complexity and challenges for these kinds of relationships such as differences in culture, faith and language. Sometimes starting out might be difficult, if there are any objections or resistance from parents, relatives, friends or the community. And later they might also run into conflict when asserting their personal or family values, not only into the relationship, but especially when bringing up their children.
In this program, we bring the audience to meet different mix marriage couples each week to share with us their love stories and some of their challenges and rewards being in a mix marriage relationship.
       LOOKING FOR MIXED MARRIAGES (COUPLES incl. LGBT)
   from different backgrounds (Race, Ethnicity, Culture, Faith)
                     to participate in our 13 episode program for C31
If you like to share your unique story, please contact :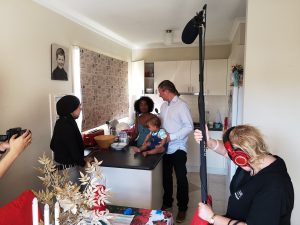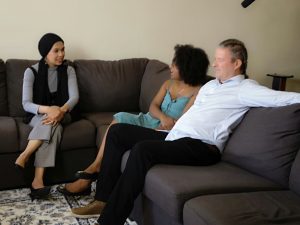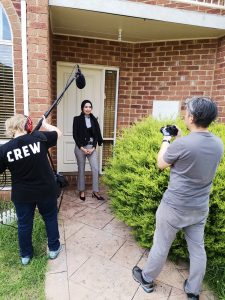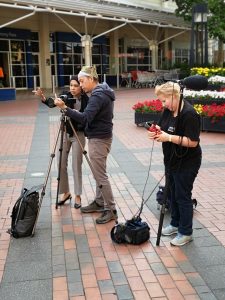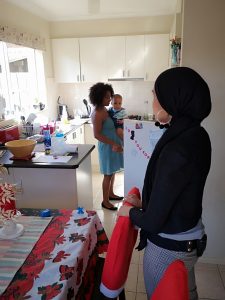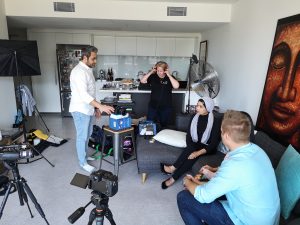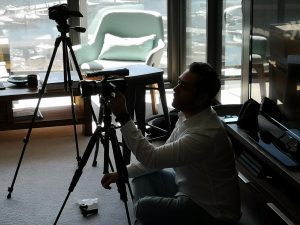 'Interracial Love' is a program that projects the diversity of the multicultural community in Australia. A program about culture, race, relationships and love that will be aired on C31 community TV as well as their online channel with over 1Million viewers.
Produced, directed and written by Aussie1.Productions' multitalented founder and creative director, Lin Ariffin.
LinkedIn profile:
https://www.linkedin.com/in/lin-ariffin-75174a140/?trk=author_mini-profile_image&originalSubdomain=au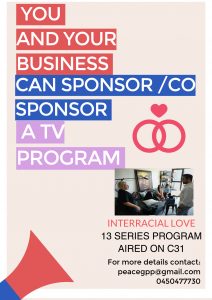 WHY WOULD YOU CHOOSE BECOMING A TV SPONSOR?
It puts your business front and centre …
It connects your brand with your target market …
It speeds up your brand awareness & media exposure …
It increases your reach and exposure to new clients and customers …
It reconnects you with existing customers and engages them …
It generates strong leads …
It delivers a great ROI …
It leaves your competitors in their tracks …
Statistics – Worldwide 40 million new viewers are expected to watch TV, thereby watching 140 billion more hours of television, making TV shows one of the most popular conversation topic around the world.
WHY CHOOSE CHANNEL 31?
Exposure to Channel 31 Multi-Cultural Audience in Melbourne & Geelong with up to a million viewers per month
WHY YOU?
Does your organisation provide services such as –
education;
employment services;
legal services;
immigration services;
marriage services or is involved in the wedding industry?
benefit from selling to new migrants, such as –

real estate agents;
property developers;
banks;
insurances;
telecommunication providers;
providers of TV, FoxTel, NetFlix, Stan, and other subscriptions?
wish to be branded and identified of being –

community-minded;
multi-cultural; and/or
supportive of migrants?
If you answer with 'Yes' to one or more of these questions, YOU COULD BECOME A SPONSOR OF OUR TV SHOW , AIRED ON CHANNEL 31…..
that offers you maximal exposure to this market;
that makes sure people talk more often AND more positively about you; and
that gives you an edge about your competitors and ensures YOU are getting more sales
SPONSORSHIPS OPPORTUNITIES
Being a sponsor of INTERRACIAL LOVE is an effective way to enhance your organization's recognition within the trademark community, strengthen your relationships with existing clients and generate new business.
INTERRACIAL LOVE offers a variety of sponsorship packages designed to help your organization achieve these goals. Businesses /Corporate /Individuals may participate by sponsoring one or more episodes of INTERRACIAL LOVE. Sponsorships  can be under these categories:
MAIN SPONSOR ( WITH MULTIPLE SPONSORS)The Main Sponsor has the goal to impress their target market, to generate strong leads from new customers, to reconnect and engage with existing customers, and to turbo speed-up their brand awareness & media exposure. They know they can achieve a great ROI only if their message is delivered repeatedly and consistently and thus want to sponsor the entire programme series (13 Episodes).
EXCLUSIVE SPONSOR ( SOLE SPONSORSHIP WITH NO OTHER SPONSORS)                                                                                                                                         The Exclusive Sponsor has the same goals as the Main Sponsor, but the Exclusive Sponsor likes to be the only one to be associated to this special programme, thereby being identified by the target clients and customers as the sole commercial authority that relates to their wants and needs.
OTHER SPONSORS 
*PLEASE CONTACT US FOR MORE SPONSORSHIP PACKAGES DETAILS
Sponsor Benefits (depending on sponsorship packages):
Name above Event Title with logo lock-up, i.e. BRAND PROUDLY BROUGHT TO YOU BY (Name of sponsors)
Logo placement and Credits at beginning and end of program aired on C31 and online channels
Full screen title ad at the end of the program (see samples below)-Exclusive sponsorship only
Ability to embed and link videos on your website/you tube channel
Credit in video descriptions with link to your website
Recognition in all pre- and post-event social media marketing (Facebook/Instagram/twitter)
Hyperlink to your website from Aussie1.Productions and Interracial Love with brief description and logo
Radio announcement
website presence (http://aussie1.productions/)
Promotional opportunities
Marketing materials
# Sample title ads and branding messages appear below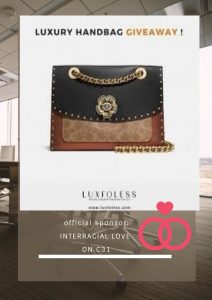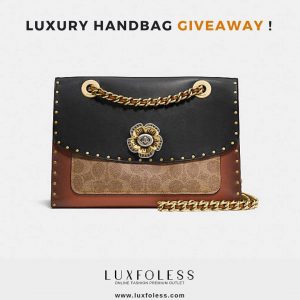 For information on our sponsorship opportunities, please contact:
Lin Ariffin
Executive & Creative Director
Aussie1.Productions
M: +61450477730